One of the things that often surprises sellers when discussing a consignment with Collecting Cars is that the buyer's premium is capped.
While traditional auction houses have uncapped premiums that can often run into tens of thousands of pounds, buyers on our platform pay a maximum of just £5,000 / €5,000 / $5,000 / A$10,000 (plus VAT for UK buyers) - regardless of the value of the car.
That means that for a valuable collector car that attracts a substantial six-figure winning bid, the buyer's premium can be less than 1% of the hammer price. With that in mind, it is easy to see why so many supercar sellers are choosing Collecting Cars to find new homes for their vehicles - and June saw some fantastic results on the platform from around the world.
Our US team could not have had a better first auction sale. A sensational Ferrari 360 Challenge Stradale with a little over 10,000 miles on the clock, and which had just received an extensive refurbishment was sold for $252,500 on the hammer - all of which goes to the seller.
Other great Ferrari results included a thrilling 458 Speciale Aperta consigned by our mainland Europe team. Specified from the factory in triple-layer Giallo with a white and blue NART racing stripe, the front axle lift system, and carbon-fibre body trim, it sold for €480,000 after an entertaining bidding war.
The Collecting Cars team in Australia consigned a stunning 612 Scaglietti with just 29,500 km from new and finished in the handsome combination of Blu Pozzi over Tan leather. Having been in single ownership for the last 10 years, and with superb service history, it was sold for A$175,000.
Collecting Cars is fast establishing itself as the leading global sales platform for Porsche cars. In June alone, 32 examples of the Porsche 911 found new homes, including rare models such as the 964 Speedster, 964 Carrera RS, and a 991 GT2 RS Weissach Pack. Another top result for the Australian team was a Porsche 991.2 GT3 Clubsport, in the timeless combination of GT Silver over black leather and Alcantara, and with just shy of 9,000 km on the clock - sold for A$310,000.
Offered for sale from Sweden was a Porsche 911 Reimagined by Singer - the third of these bespoke sports cars sold on the platform in the last six months. Named the 'Brooklyn Commission', this early Singer was the eighth car built by the California shop, equipped with a 3.8-litre Cosworth flat-six and finished in a striking combination of Linden Green over Purple Alcantara and woven leather. Attracting more than 25,000 auction views within 7 days, and with bids from the UK, across Europe, the Middle East and the US, it was another great demonstration of the platform's worldwide reach. The winning bid of £653,000 meant that the buyer's premium was just 0.77%.
In a throwback to the supercars of the 1980s, we received the first video instalment from Chris Harris on 'Project Mondial'; finding out what his £21,000 four-seater Ferrari convertible needs after 30 years on the road.
Chris was not the only one getting out and about in the last month. Collecting Cars sponsored the fascinating Highway Earth event in the US; an annual gathering with an eclectic mix of cars, conceived by automotive photographer Evan Klein and set in the picturesque Franklin Canyon Park. The team also joined in the Father's Day Tour d'Elegance on Rodeo Drive, a sophisticated event curated by renowned collector Bruce Meyer.
Closer to HQ, the team was also out in force as the official auction partner of Porsche Club GB, meeting members and prospective sellers and buyers at the 'Out East' and 'Sloane Square' gatherings. Our new Land Rover Defender 90 Hard Top also stretched its legs among hundreds of other 4x4s at The Billing Off Road Show.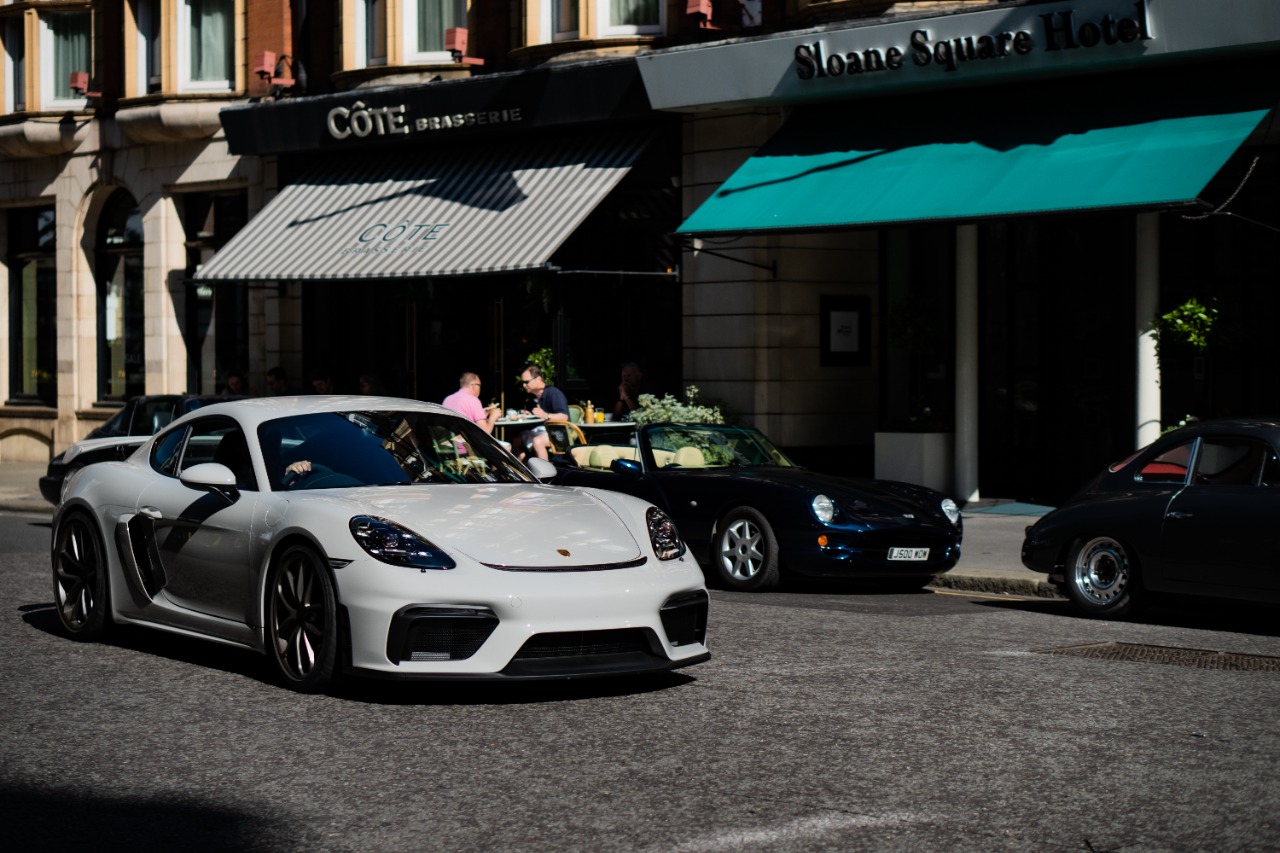 We attended the 'E-type 60' anniversary event at the Shelsley Walsh Hillclimb, showcasing an exceptional, freshly restored Jaguar E-Type Series 1 'Flat Floor' Roadster, which sold for £177,500 - further highlighting why Collecting Cars is such a compelling option for high-value vehicles in particular.
Collecting Cars has now sold more than 3,300 lots to buyers around the globe, generating in excess of £116 million for its sellers. Our team continues to search for and curate some of the most interesting and significant cars, bikes, and automobilia from sellers around the world - and our consignment specialists in London, Munich, Sydney and Los Angeles are always ready to talk.